Introduction
---
"Amy was 12 when her father, an alcoholic and drug addict, began abusing her physically and sexually. When she was 17, Amy began staying with her friend, Lisa, to escape her father's abuse. Lisa told Amy that she knew an agent who could help her become a model – something Amy had always dreamed of. Instead, the man forced Amy into prostitution and kept all the money she made, locking her in a hotel room for weeks, giving her very little food. He threatened to kill her if she ever left. Amy was finally able to escape and now hopes to train to become a certified nursing assistant, so she can help others (U.S Dept of State, 2017, p.29)"
---
Human trafficking is the coerced servitude of men, women or children. It is a human rights offense that occurs worlwide, including every state in America. Globally, the victims of trafficking are disproportionately women and girls who are commonly compelled to engage in sex, forced labor, forced marriage or domestic servitude (UN, 2009).
The covert nature of this crime obscures the true numbers and characteristics of the victims. Instead, estimates based on calls to hotlines, victim case studies and legal cases provide the majority of data supporting societal awareness of this crime against humanity.
Two small research studies estimate that between 28% and 50% of trafficked victims were seen in a medical facility (Mumma et al, 2017) during their forced servitude. In another study of 106 sex trafficked survivors, Ledere and Wetzel (2014) found 88% had been seen by a healthcare professional. Healthcare professionals are in an ideal position to identify victims of human trafficking.
This course includes descriptions of what is currently known about trafficking in the U.S. It also contains estimates of the incidence of human trafficking, federal and state laws about human trafficking, red flags that might indicate a patient is a trafficking victim, assessment tools, how and where to report possible victims and resources for them.
The course contents will be updated as new information becomes available. We encourage readers to stay abreast of institutional guidelines, applicable laws and social services available to support the recovery of the victims of human trafficking. Nurses working in emergency departments (Shandro, et al, 2016) and OB/GYN clinics and offices (Tracy & Konstantopoulos, 2012) should be particularly watchful for red flags of human trafficking. Numerous resources are listed at the end of this course for keeping up to date on human trafficking information.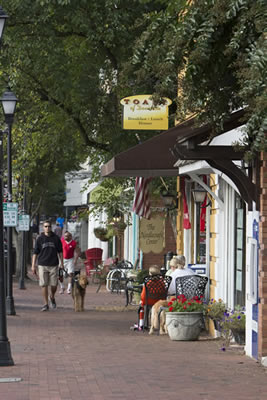 Author's personal note
We are all familiar with television crime dramas that depict a major crime perpetrated by a resident within a charming, little town. I live in Davidson, NC, a small college town near a lovely lake just north of Charlotte, NC. This idyllic town of 12,000 + citizens has a lively flower decorated main street with shops, wide sidewalks, a community library, bike trails, summer concerts on the green, welcoming restaurants and a crime rate well below the U.S. average.  I never expected that human trafficking could exist here.

On June 29, 2018 the police in Davidson served an arrest warrant on two people in a Davidson nail salon for human trafficking charges. The initial arrest warrants state the two suspects had abused a woman evidenced by severe bruising all over her body and scars from frequent stabbings. Additional warrants contained charges of human trafficking, involuntary servitude and conspiracy. https://www.charlotteobserver.com/news/local/
crime/article214065789.html#storylink=cpy
I was as shocked as anyone to learn that human trafficking occurred in our cozy community. As a nurse, I wondered if the abused woman had previously received a thorough nursing assessment at a local healthcare facility. No place is immune to human trafficking. Be vigilant no matter where you live or work.