Methamphetamine Adverse Effects
---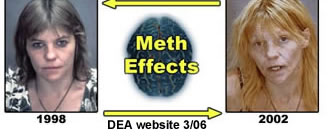 Overview: Methamphetamine (meth) increases synaptic levels of the neurotransmitters dopamine, serotonin (5-HT) and norepinephrine, and has alpha and beta adrenergic agonist effects. Norepinephrine is responsible for methamphetamine's alerting, anorectic, locomotor and sympathomimetic effects; dopamine stimulates locomotor effects, psychosis, and perception disturbances; and serotonin is responsible for delusions and psychosis.
Cardiovascular:
Adverse clinical cardiovascular manifestations of meth include: chest pain, palpitations, shortness of breath, hypertension or hypotension, myocardial ischemia, atrial and ventricular dysrhythmias, and circulatory collapse. Animal studies have shown that meth has both positive and negative cardiac inotropic effects and is directly toxic to the myocardium. In addition to acute MI in humans, meth has been reported to cause cardiomyopathy, acute pulmonary edema, and pulmonary hypertension.
Hypertension is related to vasoconstriction. It is essential to continually monitor blood pressure, neurological status and renal status. Controlling agitation is also necessary to prevent further elevation of blood pressure. Moriya & Hashimoto (2002) reported A case of Cerebral arterial spasm and hypertension resulting from the administration of meth might have resulted in intraventricular hemorrhage. According to Goldfrank, et al. (1998) drugs of choice for treating hypertension include Phentolamine(alpha-adrenergic antagonist) and nifedipine, nitroprusside, and nitrogycerine (vasodilators).
Dysrhythmias related to sympathetic stimulation and /or myocardial ischemia.
Acute aortic aneurysm According Anzalone, Crow, & Costalas (2002) aortic aneurysm can be found in young people after meth abuse.
Acute Myocardial Infarction may be a complication of meth use. According to Chen (2007) meth is association with myocardial infarction attributed to accelerated atherosclerosis, hypercoagulable state, and macrovascular epicardial coronary spasm. Ischemia and necrosis can occur at a young age and be manifested by chest pain, palpitations and dyspnea.
Cardiomyopathy has been reported in meth users. According to Wijetunga, Seto , Lindsay , & Schatz (2003) The pathogenesis is probably similar to that of cocaine and catecholamine-induced cardiomyopathy. Cellular, animal, and clinical data support the link between meth exposure and myocardial pathology


Instant Feedback:

The adverse effects of methamphetamine on the cardiovascular system are due impart to excessive catecholamine stimulation.


Pulmonary:
Although most manifestations of meth use are cardiovascular some pulmonary complications occur. According to Cruz, Davis, O'Neil and Tamarin (1998), dyspnea with shallow respirations may be noted within seconds of smoking "ice". Absence of bronchoconstriction and wheezing may be due to the bronchodilating effect of meth.
Pulmonary edema according to Cruz et al (1998) may be associated with the use of "ice".
Pulmonary hypertension according to Cruz et al (1998) may occur after long standing use of crank (the less pure form of "Ice").
Gastrointestinal:
Many individuals begin to take some form of meth for the appetite suppressing qualities.
According to Goldfrank et.al. (1998) meth causes an increase of norepinephrine, which causes anorexia. Weight loss may be as great as 50 -100 pounds. Teenagers are often told that meth is the same type of drug their physician would order and thus encouraged to try meth. Meth abusers become severely malnourished
Nausea vomiting and diarrhea may also accompany meth use.
Gastric lavage and administration of activated charcoal are recommended if the drug has been ingested, but ipecac-induced emesis should be avoided because of the possibility of inducing seizures, arrhythmias of hypertensive hemorrhages (Beebe and Walley, 1995).
Central Nervous System:
Most patients report to the Emergency room due to CNS symptoms. These patients are anxious, volatile, and aggressive and in some cases psychotic.
The central nervous system (CNS) actions that result from taking even small amounts of methamphetamine include increased wakefulness, increased physical activity, decreased appetite, increased respiration, hyperthermia, and euphoria.
Other CNS effects include irritability, insomnia, confusion, tremors, convulsions, anxiety, paranoia, and aggressiveness.
CVA (Stroke) - McGee et al (2004) describe the following case-A healthy 31-year-old male abstinent from drug abuse during his recent incarceration developed slurred speech, a severe headache, and left-sided hemiparesis prior to his eventual death 9.5 hours after inhalation of methamphetamine. On postmortem examination, inspection of the brain revealed bilateral subarachnoid hemorrhage, with a prominent intralobar hemorrhage centered within the right frontal cerebral hemisphere. No evidence of vasculitis, infarction, intraventricular hemorrhage, or ruptured aneurysm could be observed. While this is not the first report of a methamphetamine-related stroke, this report describes the autopsy findings of an intracerebral hemorrhage secondary to methamphetamine abuse on autopsy and compares the findings and antemortem history to previously reported methamphetamine cerebral vascular deaths.
Hyperthermia- According to Goldfrank et.al.(1998) hyperthermia is a frequent and rapidly fatal manifestation in patients . Temperature may be as high as 104. External cooling and control of agitation is recommended. Benzodiazepines are recommended for agitation. Goldfrank et al (1998) recommend giving 10mg of Diazepam I.V. and repeating until the patient is calm. A cumulative dose of over 100 mg., may be needed.
Seizures- According to Goldfrank et.al. (1998) these are best treated with barbiturates or benzodiazepines.
Ruptured cerebral (berry) aneurysms- According to Davis and Swalwell (1996) acute intoxication with methamphetamine may contribute to formation and rupture of a berry aneurysm by causing transient hypertension and tachycardia. Their study found the mechanism of death invariable involved subarachnoid hemorrhage, although some cases also had intracerebral hemorrhage.
Methamphetamine releases high levels of the neurotransmitter dopamine, which stimulates brain cells, enhancing mood, memory and body movement. It appears to have a neurotoxic effect, damaging brain cells that contain dopamine as well as serotonin. Recent studies in chronic methamphetamine abusers have revealed severe structural alterations and functional deficits in areas of the brain associated with emotion as well as memory. These findings may help account for many of the emotional and cognitive problems observed in chronic methamphetamine abusers. Over time, it appears to cause reduced levels of dopamine, which can result in symptoms like those of Parkinson's disease.
Other Physical/Mental Effects:
Renal Failure--Vasoconstriction induced acute renal failure can occur alone or in conjunction with cardiorespiratory or vascular problems (Lineberry and Bostwick 2006) .
Skin Lesions--Skin lesions may include excoriations and ulcers from the users compulsive picking at "meth bugs," the result of methamphetamine-induced delusional parasitosis. Needle marks from injections, or chemical burns sustained while "cooking" methamphetamine. Cellulitis from poor wound care may require treatment. (Lineberry and Bostwick 2006).
Burns--the frequency of burn center admissions related to the manufacturing process of Meth is increasing. Meth burn patients have larger burn size, incidence of inhalation injury, and increased morbidity when compared with non-meth burn patients.
Corneal ulceration - Chuck, Williams, , Goldberg,, and Lubniewski, (1996) found that Methamphetamine may cause chronic recurrent, bilateral, corneal ulcerations from the use of "Ice".
Rhabdomyolysis- Richards, Johnson, Stark, and Derlet, (1999) found an association between Rhabdomyolysis and positive urine screens for meth.
Acute lead poisoning is another potential risk for methamphetamine abusers. A common method of illegal methamphetamine production uses lead acetate as a reagent. Production errors therefore may result in methamphetamine contaminated with lead. There have been documented cases of acute lead poisoning in intravenous methamphetamine abusers.
Dental deterioration involving missing or badly decayed teeth is one hallmark of chronic methamphetamine abuse. Caries associated with meth abuse are thought to be related to three factors: 1) xerostomia caused by the drug; 2) a subsequent increase in sugared soft drink consumption; and 3) lack of oral hygiene during extended periods of abuse. Patients in this risk group usually present for treatment due to severe pain (Shaner 2002).
Anxiety reactions during which the person is fearful, tremulous, and concerned about his physical well-being. Also experienced is an exhaustion syndrome, involving intense fatigue and need for sleep, and a prolonged depression, during which suicide is possible (Merck Manual 1999).
HIV--Lineberry and Bostwick (2006) report that methamphetamine increases libido and reduces inhibition, a synergy that results in increased STD risk for users and their sexual partners. Male meth users who are human immunodeficiency virus (HIV)-positive and engage in homosexual activity report low rates of condom use. They are also more likely to have multiple sex partners and engage in anonymous sex. Robinson and Rempel (2006) report that persons with HIV disease and meth addiction reported using meth to treat HIV-related depression, fatigue, and neuropathic pain. HIV-related diarrhea seemed to diminish with methamphetamine use, although this was not a motivation for use.
Sexually Transmitted Disease--According to Lineberry and Bostwick (2006) Heterosexual male and female users also are more likely to engage in risky sexual behaviors that include multiple sexual partners, anonymous partners, or unprotected sex. Clinicians should have a low threshold for ordering STD screening for meth abusers and their partners.
Instant Feedback:
Methamphetamine manufacture can result in lead poisoning .
---
RnCeus Homepage | Course catalog | Discount prices | Login | Nursing jobs | Help
2009 © RnCeus.com