Signs & Symptoms of CP
---
The signs of cerebral palsy usually appear in the early months of life, although specific diagnosis may be delayed until age two years or later. Infants with CP frequently have developmental delay, in which they are slow to reach developmental milestones such as learning to roll over, sit, crawl, or walk. Some infants with CP have abnormal muscle tone. Decreased muscle tone (hypotonia) can make them appear relaxed, even floppy. Increased muscle tone (hypertonia) can make them seem stiff or rigid. In some cases, an early period of hypotonia will progress to hypertonia after the first 2 to 3 months of life. Children with CP may also have unusual posture or favor one side of the body when they reach, crawl, or move. It is important to note that some children without CP also might have some of these signs.
Some early warning signs:
Infant >2 months

feels stiff or floppy
difficulty controlling head when picked up
stiff legs that cross or "scissor" when picked up

Infant > 6 months

doesn't roll over
cannot bring hands together
difficulty bringing hands to her mouth
reaches with only one hand while keeping the other fisted

Infant >10 months

crawls in a lopsided manner, pushing off with one hand and leg while dragging the opposite hand and leg

Infant >12 months

cannot stand with support

About half of infants who are suspected to be at risk for cerebral palsy at 12 months of age appear to outgrow their symptoms by age 2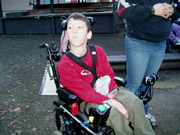 There are four main types of cerebral palsy
Spastic CP represents about 70% of cases and is most ammenable to surgical correction. Spastic CP is characterized by increased muscle tone and hyperreflexia resulting in slow, awkward and restricted movements.

Spastic diplegia/diparesis — involves muscle stiffness that is predominantly in the legs and less severely affects the arms and face, although the hands may be clumsy. Tendon reflexes in the legs are hyperactive. Toes point up when the bottom of the foot is stimulated. Tightness in certain leg muscles makes the legs move like the arms of a scissor. Children may require a walker or leg braces. Intelligence and language skills are usually normal.
Spastic hemiplegia/hemiparesis — typically affects the arm and hand on one side of the body, but it can also include the leg. Children with spastic hemiplegia generally walk later and on tip-toe because of tight heel tendons. The arm and leg of the affected side are frequently shorter and thinner. Some children will develop an abnormal curvature of the spine (scoliosis). A child with spastic hemiplegia may also have seizures. Speech will be delayed and, at best, may be competent, but intelligence is usually normal.
Spastic quadriplegia/quadriparesis — is the most severe form of cerebral palsy and is often associated with moderate-to-severe intellectual disability. It is caused by widespread damage to the brain or significant brain malformations. Children will often have severe stiffness in their limbs but a floppy neck. They are rarely able to walk. Speaking and being understood are difficult. Seizures can be frequent and hard to control.

Athenoid or Dyskinetic CP represents about 20% of casesand is very difficult to correct with surgery. It is characterized by slow and uncontrollable writhing or jerky movements of the hands, feet, arms, or legs. Hyperactivity in the muscles of the face and tongue makes some children grimace or drool. They find it difficult to sit straight or walk. Some children have problems hearing, controlling their breathing, and/or coordinating the muscle movements required for speaking. Intelligence is rarely affected in these forms of cerebral palsy.
Ataxic CP represents about 10% of cases and is poorly ammenable to surgical correction. It affects balance and depth perception. Children with ataxic CP will often have poor coordination and walk unsteadily with a wide-based gait. They have difficulty with quick or precise movements, such as writing or buttoning a shirt, or a hard time controlling voluntary movement such as reaching for a book.
Other conditions are associated with cerebral palsy
Intellectual disability. Approximately 30 – 50 percent of individuals with CP will be intellectually impaired. Mental impairment is more common among those with spastic quadriplegia than in those with other types of cerebral palsy.
Seizure disorder. As many as half of all children with CP have one or more seizures. Children with both cerebral palsy and epilepsy are more likely to have intellectual disability.
Delayed growth and development. Children with moderate to severe CP, especially those with spastic quadriparesis, often lag behind in growth and development. In babies this lag usually takes the form of too little weight gain. In young children it can appear as abnormal shortness, and in teenagers it may appear as a combination of shortness and lack of sexual development. The muscles and limbs affected by CP tend to be smaller than normal, especially in children with spastic hemiplegia, whose limbs on the affected side of the body may not grow as quickly or as long as those on the normal side.
Spinal deformities and osteoarthritis. Deformities of the spine—curvature (scoliosis), humpback (kyphosis), and saddle back (lordosis) -- are associated with CP. Spinal deformities can make sitting, standing, and walking difficult and cause chronic back pain. Pressure on and misalignment of the joints may result in osteoporosis (a breakdown of cartilage in the joints and bone enlargement).
Impaired vision. Many children with CP have strabismus, commonly called "cross eyes," which left untreated can lead to poor vision in one eye and can interfere with the ability to judge distance. Some children with CP have difficulty understanding and organizing visual information. Other children may have defective vision or blindness that blurs the normal field of vision in one or both eyes.
Hearing loss. Impaired hearing is also more frequent among those with CP than in the general population. Some children have partial or complete hearing loss, particularly as the result of jaundice or lack of oxygen to the developing brain.
Speech and language disorders. Speech and language disorders, such as difficulty forming words and speaking clearly, are present in more than a third of persons with CP. Poor speech impairs communication and is often interpreted as a sign of cognitive impairment, which can be very frustrating to children with CP, especially the majority who have average to above average intelligence,
Drooling. Some individuals with CP drool because they have poor control of the muscles of the throat, mouth, and tongue.
Incontinence. A possible complication of CP is incontinence, caused by poor control of the muscles that keep the bladder closed.
Abnormal sensations and perceptions. Some individuals with CP experience pain or have difficulty feeling simple sensations, such as touch.
Learning difficulties. Children with CP may have difficulty processing particular types of spatial and auditory information. Brain damage may affect the development of language and intellectual functioning.
Infections and long-term illnesses. Many adults with CP have a higher risk of heart and lung disease, and pneumonia (often from inhaling bits of food into the lungs), than those without the disorder.
Contractures. Muscles can become painfully fixed into abnormal positions, called contractures, which can increase muscle spasticity and joint deformities in people with CP.
Malnutrition. Swallowing, sucking, or feeding difficulties can make it difficult for many individuals with CP, particularly infants, to get proper nutrition and gain or maintain weight.
Dental problems. Many children with CP are at risk of developing gum disease and cavities because of poor dental hygiene. Certain medications, such as seizure drugs, can exacerbate these problems.
Inactivity. Childhood inactivity is magnified in children with CP due to impairment of the motor centers of the brain that produce and control voluntary movement. While children with CP may exhibit increased energy expenditure during activities of daily living, movement impairments make it difficult for them to participate in sports and other activities at a level of intensity sufficient to develop and maintain strength and fitness. Inactive adults with disability exhibit increased severity of disease and reduced overall health and well-being.
---

Going back to the classroom scenario presented in the Introduction, let's think about what type of cerebral palsy Mary has.
She walked up to the blackboard in an inclusive classroom setting, with a slight limp because of a slight hemiparesis of her right leg. Because her right arm is significantly impaired from the CP, she writes her spelling words with her left hand. The writing is slow and deliberate because Mary does have some underlying learning disabilities. When she reads the words aloud, Mary follows her speech and language pathologist's advice to speak slowly and enunciate carefully, to minimize her oral-motor impairments. She also turns her head slightly to the side to compensate for a visual field defect. Except for a seizure disorder that is well-controlled with anticonvulsant medications, Mary's medical history is unremarkable and she is able to ride the bus and play with her friends. Mary has spastic hemiplegic cerebral palsy.


Juan Carlos, on the other hand, uses a specially-fitted wheelchair and wrist splints to compensate for the low tone in his trunk, as well as his limb spasticity. With his severe cognitive impairments, Juan Carlos requires a highly-modified curriculum and significant accommodations in his special day classroom. Because of his tracheostomy, gastrostomy, and seizure disorder, he requires the services of a one-on-one health aide at school. Juan Carlos displays the classic characteristics of spastic quadriplegic cerebral palsy.

---
RnCeus Homepage | Course catalog | Discount prices | Login | Nursing jobs | Help
© RnCeus.com 2013