Hemostasis
---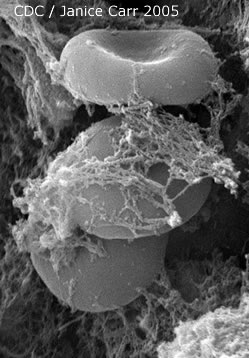 Hemostasis is a complex process which changes blood from a fluid to a solid state. Intact blood vessels are central to moderating blood's tendency to clot. The endothelial cells of intact vessels prevent thrombus formation by secreting tissue plasminogen activator (t-PA) and by inactivating thrombin and adenosine diphosphate (ADP). Injury to vessels overwhelms these protective mechanisms and hemostasis ensues. Hemostasis proceeds in two phases: primary and secondary hemostasis.
Primary hemostasis is characterized by vascular contraction, platelet adhesion and formation of a soft aggregate plug. It begins immediately after endothelial disruption. Injury causes temporary local contraction of vascular smooth muscle. Vasoconstriction slows blood flow, enhancing platelet adhesion and activation.

Adhesion occurs when von Willebrand factor(vWf) produced by endothelial cells near the injury attaches to the exposed subendothelial collagen. Next, glycoproteins on the platelet surface adhere to the "sticky" von Willebrand factor(vWf). Platelets collect across the injured surface. These platelets are then "activated" by contact with collagen. Collagen-activated platelets form pseudopods which stretch out to cover the injured surface and bridge exposed collagen fibers. The collagen-activated platelet membranes expose receptors which bind circulating fibrinogen to their surfaces. Fibrinogen has many platelet binding sites. An aggregation of platelets and fibrinogen build up to form a soft plug. Platelet aggregation occurs about 20 seconds after injury.
Primary hemostasis is short lived. The immediate post injury vascular constriction abates quickly. If flow is allowed to increase, the soft plug could be sheared from the injured surface, possibly creating emboli.

Secondary hemostasis is responsible for stabilizing the soft clot and maintaining vasoconstriction. Vasoconstriction is maintained by platelet secretion of serotonin, prostaglandin and thromboxane. The soft plug is solidified through a complex interaction between platelet membrane, enzymes, and coagulation factors.

Coagulation factors are produced by the liver and circulate in an inactive form until the coagulation cascade is initiated. The cascade occurs in steps. The completion of each step activates another coagulation factor in a chain reaction which leads to the conversion of fibrinogen to fibrin.
---
Instant Feedback:
Vascular spasm, platelet plug formation, and clot formation all help to stop excessive blood loss after tissue injury.

---
©RnCeus.com