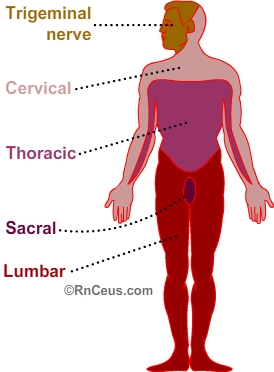 Nociceptive pain can be characterized as:
Painful stimulus that causes an organism to adopt protective behaviors that promote healing.
Pain analogous to an alarm that signals actual or potential tissue damage, e.g., postoperative pain.
Pain with a well defined onset associated with tissue injury from surgery, trauma, or disease related injury including inflammation.
Pain proportional to trauma which decreases as healing occurs.
Somatic nociceptive pain is often described as well-localized sharp, crushing, tearing pain that usually follows a dermatomal pattern.
Visceral nociceptive pain is poorly localized dull, cramping, or colicky pain associated with peritoneal irritation, dilation of smooth muscle or a tubular passage.
Referred visceral pain radiates in a somatic dermatomal pattern •
Nociceptive pain occurs in 5 phases: 1) Transduction, 2) Conduction, 3) Transmission, 4) Modulation, 5) Perception.
Instant Feedback:
Post-operative pain is an example of nociceptive pain.
---
©RnCeus.com