Intimacy and Sexuality
---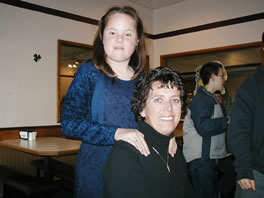 In general, individuals with Down syndrome reach puberty and sexual maturation about the same time as their non-disabled peers. However, adolescent girls with Down syndrome who have hypothyroidism, or a history of heart disease, are more likely to have delayed onset of puberty. Most young women with Down syndrome have regular menses after menstruation occurs. Up to 40% of the young women with Down syndrome have a normal ovulation pattern, while 30% ovulate on a less predictable cycle. Young women with Down syndrome can become pregnant and at least 1/3 of their children will have Down syndrome. Men with Down syndrome are quite often infertile.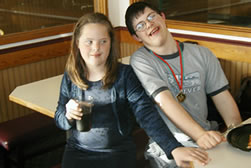 Teens with Down syndrome today enjoy many of the same community activities as their typically-developing peers. In this environment, there is an increased opportunity for intimacy and sexual relationships. Teens with Down syndrome need accurate information about intimacy and sexuality, presented in an open manner that is comprehensible and relevant for the individual. Adolescents with Down syndrome need the same type of information as their non-disabled peers about issues such as conception, contraception, sexually-transmitted disease, and sexual abuse. However, it's important to tailor the information to the learning style of the teen with disabilities, to factor in the values and wishes of the parents, and to allow opportunity for questioning and open discussion. Within the limitations and context of the teen's living arrangement, decisions need to be made about the extent of intimate relationships.
---
For more on "Issues of Sexuality in Down Syndrome" please click here for an article by Dr. Van Dyke.
---
RnCeus.com