OxyHemoglobin Dissociation Curve
---
This curve describes the relationship between available oxygen and amount of oxygen carried by hemoglobin.
The horizontal axis is Pa02, or the amount of oxygen available.
The vertical axis is SaO2, or the amount of hemoglobin saturated with oxygen.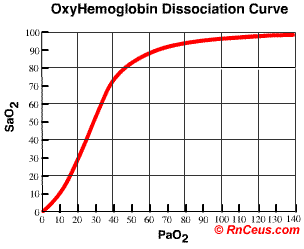 Once the PaO2 reaches 60 mm Hg the curve is almost flat, indicating there is little change in saturation above this point.

So, PaO2 of 60 or more is usually considered adequate.
But, at less than 60 mm Hg the curve is very steep, and small changes in the PaO2 greatly reduce the SaO2.



The term "affinity" is used to describe oxygen's attraction to hemoglobin binding sites.

Affinity changes with:

variation in pH,
temperature,
CO2 and,
2,3,-DPG

a metabolic by-product which competes with O2 for binding sites.

Traditionally the curve starts with:

pH at 7.4,
temperature at 37 Centigrade, and
PaCO2 at 40.

A left shift will increase oxygen's affinity for hemoglobin.

In a left shift condition (alkalosis, hypothermia, etc.) oxygen will have a higher affinity for hemoglobin.

SaO2 will increase at a given PaO2, but more of it will stay on the hemoglobin and ride back through the lungs without being used. This can result in tissue hypoxia even when there is sufficient oxygen in the blood.



A right shift decreases oxygen's affinity for hemoglobin.

In a right shift (acidosis, fever, etc.) oxygen has a lower affinity for hemoglobin. Blood will release oxygen more readily.

This means more O2 will be released to the cells, but it also means less oxygen will be carried from the lungs in the first place.
---
© RnCeus.com